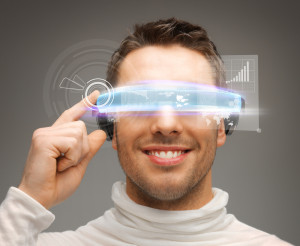 If you think the idea of wearable technology is still hard to swallow, well, you might find yourself actually swallowing one of them in the near future, literally.
Weeks ago the buzz and fuss was on the Google Glass, health monitoring wristbands and such. What we missed out on was a very different offering from Motorola (owned by guess wh-oogle?), promoting their password tattoo and pill innovation at the D11 conference by AllThingsD.
Regina Dugan, senior vice president of Motorola's Advanced Technology and Projects, revealed a prototype of the wearable tattoo on her forearm to replace entering your passwords on the computer or smartphone. She interprets on stage how their team is aimed at solving long-standing problems for tech users – in this case it is password authentication. She remarked how a power user may enter their passwords to access their machines and devices on an average of 100 times a day, while the typical user does the same about 39 times, and takes 2.3 seconds every round. She also explains on how the bendable, sticker-like tattoo could be worn up to a week at a time, containing antennas and sensors.
She then showcased the password vitamin, officially dubbed 'Proteus Digital Health'- a pill that you would swallow once a day that once in contact with the stomach acid, it will translate into a day-long emission of an "18-bit, ECG-like signal" that makes your body and gadgets communicate. She added that it was safe to even take up to 30 of those pills in a day (should you take more than the recommended dose of one) and that the pill has already been approved by the FDA (Food and Drug Administration) in the US for use, and may debut for other applications later.
The Motorola group (MC10) based in Massachusetts, is known as a developer of consumer, medical, industrial/military applications. Aside the tattoo and the pill, they have also designed a solar-powered helmet (for the industrial/defense sector) which they are, without a doubt excited about as well.
"We've made a lot of advances in wearables, but there's still some fundamental problems that we haven't solved," Ms. Dugan added. She also stated that the "mechanical mismatch" between rigid electronics and soft, flexible humans may be the biggest issue.
There are also mixed reactions from observers – Forbes noted how Google's acquisition of Motorola may not have been all about patents or cellphones, but getting access to a long history of innovation and forward-thinking people. The AllThingsD interviewer at the conference, Walter Mossberg was 'freaked out' at the sight of the pill, and Ethan A. Huff, a contributing writer on Alex Jones' Infowars.com certainly thinks it's an innovation that puts Big Brother into a clearer perspective, and that such new technology is useless – instead of making users 'struggle' with remembering passwords, they now have to struggle with remembering to take a pill every day. The message may come in many languages, but what can we really understand from all these technological advancements?