Certified Translation Services in Manchester
Are you looking for a professional translation services agency in Manchester? Look no further! TS24 is a leading UK Language Service Provider and works with business and private clients based in Manchester. Email our team on info@translationservices24.com or call us at +44 208 677 3775 to speak to one of our translation experts. Our advice is always free and we can translate your documents into English & 200 other languages quicker and cheaper than most other agencies!
With years of experience in providing translation services to Manchester-based businesses, organisations as well as private clients, we have established ourselves as one of the leading and fastest-growing translation agencies in the United Kingdom.
Our large network of over 2,000 professional translators, interpreters and language experts, can cover more than 200 different languages from every corner of the world, and provide our clients based in Manchester with accurate translations at competitive rates. We only work with the most qualified and experienced professionals who are native speakers of the target language. Our agency chooses them specifically according to your particular requirements and the type of material you wish to translate, as well as their experience in the project area; whether it's legal, marketing, financial or medical documents you wish to convey, the linguist translating or interpreting your materials will have an in-depth understanding and experience within the given sector.
Manchester Certified Translation Services
Translations For Business Clients
Private certifies & documents
Translation & Interpreting Services in Manchester, UK
In addition to our professional translation services of written materials and documents, we also provide face-to-face language interpreting services in Manchester. This type of language translation is usually required during meetings, conferences or appointments, where the linguist is required to interpret in real time.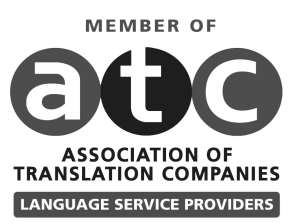 Expert Translations For Your Company
Business sectors in Manchester develop and expand quickly. From conferences to technology, the city attracts several pioneering companies from across the country and offers great growth prospects.
To ensure the highest industry standards, we are an official member of the ATC (Association of Translation Companies). Additionally, our linguists are not only language experts and native speakers of the target language, but also have a first-hand experience within your particular business sector, whether technical, marketing, legal or any of the other sectors we translate for.


Legal & Financial

Marketing & PR


Technical


Web, IT & AI 


Business & Retail
Why Manchester
Manchester is one of the UK's fastest developing and most multilingual & cultural cities. As some of the world's largest organisations and businesses chose Manchester for their prime location in the United Kingdom, the city became a magnet for the greatest talent from all over the world. Multinational business and trade are at the heart of the city, which means that language translation services are today an inseparable part of corporate life here. Having worked with some of Manchester's largest and fastest-growing organisations, we understand the importance of accurate translations within this environment and pride ourselves in being a part of the city's growth.
Contact Us
If you're a business or a private client based in Manchester, please send your documents to info@translationservices24.com or use one of the contact forms on our website and we will get back in touch with you as soon as possible with an accurate quote. If you would like to discuss your project in more detail, call +44 (0) 20 8677 3775 and one of our account managers will be more than happy to help!