Official UK & Certified Translation Services
Do you need a certified translation of your documents to support a Visa, Immigration, Bank, Education, Passport or any other professional application in the United Kingdom or abroad?
With TS24, you'll have over 8,000 professional certified translators at your service, covering English & 200 other languages, with fast turnaround times, low prices and excellent expert customer care.
Any Language
Any Document
Fast & Secure
Official & Certified
Signed & Stamped
Order Online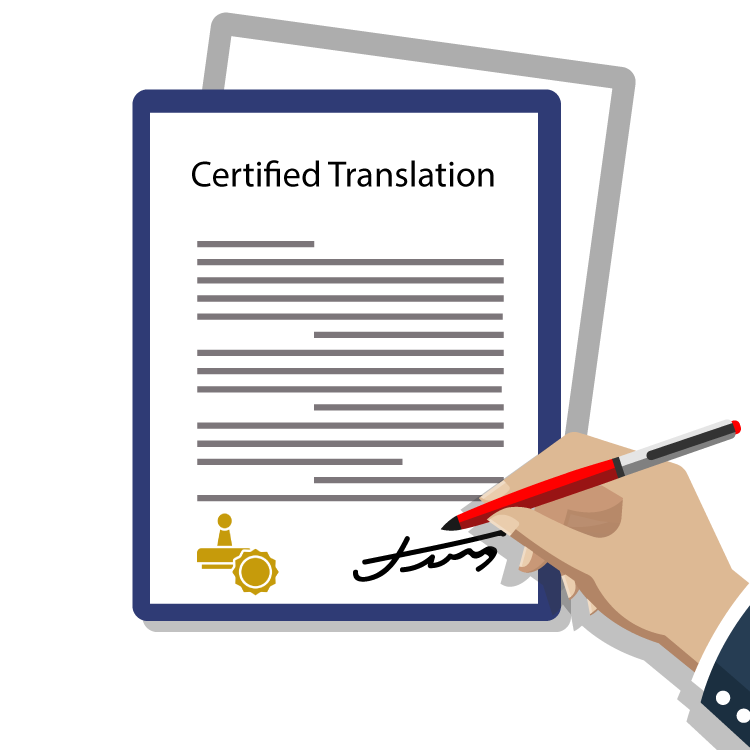 To order, simply upload pictures or scan of your documents. We will get back to you with a FREE Quote.
From just £30 + VAT & 24 hours!
London Certified Translation Services
TS24 is a leading certified provider of translation services in London & UK. We officially translate, edit & certify thousands of documents every month and cater our certified translation services to a variety of clients and uses. Since our launch in 2011, we helped thousands of business and private customers. Our offer covers document translations which are widely accepted by the UK Gov, Home Office and official institutions worldwide. We produce translations in 200 languages, including English, French, German, Polish, Spanish, Chinese, Arabic, Hindi and many others! Our Certified Translation Team provides a stamp and a signature, confirming that your translations are accurate and true to the original. We supply translations of, but not limited to, Certificates, Passports, Official Licenses, Letters, Statements and Visa Applications. As of February 2023, our services are rated 4.9 out of 5 stars!
To get in touch & order your certified translation services call 020 8677 3775 or email info@translationservices24.com. To a fast quote for certified translations, simply upload them online and we will get back to you in 30 minutes! The price for translating your documents from or into English starts at just £30.
Our certified translations meet the language requirements in the country of your application, set by GOV in the UK and institutions abroad. Our translators are capable of providing certified translations of documents, papers, certificates and other materials from and into English as well as 200 other languages. We offer document translations at competitive rates and fast turnaround times. If you need to translate and certify your documents, papers, applications, forms or any other certificates, look no further - you're in the right place!
Order Your Certified Translations
Call us on 0208 677 3775 or email info@translationservices24.com to discuss your certified needs and speak with our translation experts today! With thousands of accredited translators worldwide our advice is free and we can provide professional price quotes for any document in just 30 minutes!
We certify your translation officially by marking it with our stamp as well as the project manager's legal signature. We are a member of the ATC and so are legally authorised to offer this type of certified translation. Additionally, we can also provide sworn certifications (translator's certificate)
We provide certified translations of:
Death Certificates Translation
Divorce Certificates Translation
Academic Documents Translation
Insurance Documents Translation
Adoption Papers Translation
Medical Report Translation
Immigration Documentation Translation
Passports & IDs Translation
+ All other documents
Our Certified Translations
Standard Certified Translation

A standard document certification is by far the most popular translation we offer. We produce 100s of them every day in all languages! When we deliver your translated documents, they will come with a stamped and signed cover letter, which makes your documents legally recognised anywhere in the United Kingdom. It's also our cheapest option, as the prices start as low as £30. The translation + certification process usually takes as little as 24 hours or quicker!

Sworn Translations

In certain situations, a sworn translation may be required. This type of certification involves an official translator or linguist verifying that they have personally carried out the translation and accurately conveyed the meaning of your document. This must be done in the presence of a lawyer or accredited notary public.

Apostille

If you intend to use your documents abroad, this may require an official apostille. This certification may require an apostille from the Foreign and Commonwealth Office to be officially validated.

Notarised

Officially notarised translations are often required by the Government or other legal entities. TS24 can provide notarised documents that have been signed and stamped by an authorised notary. To do this, our team member will visit the notary's office to legally sign and stamp the document.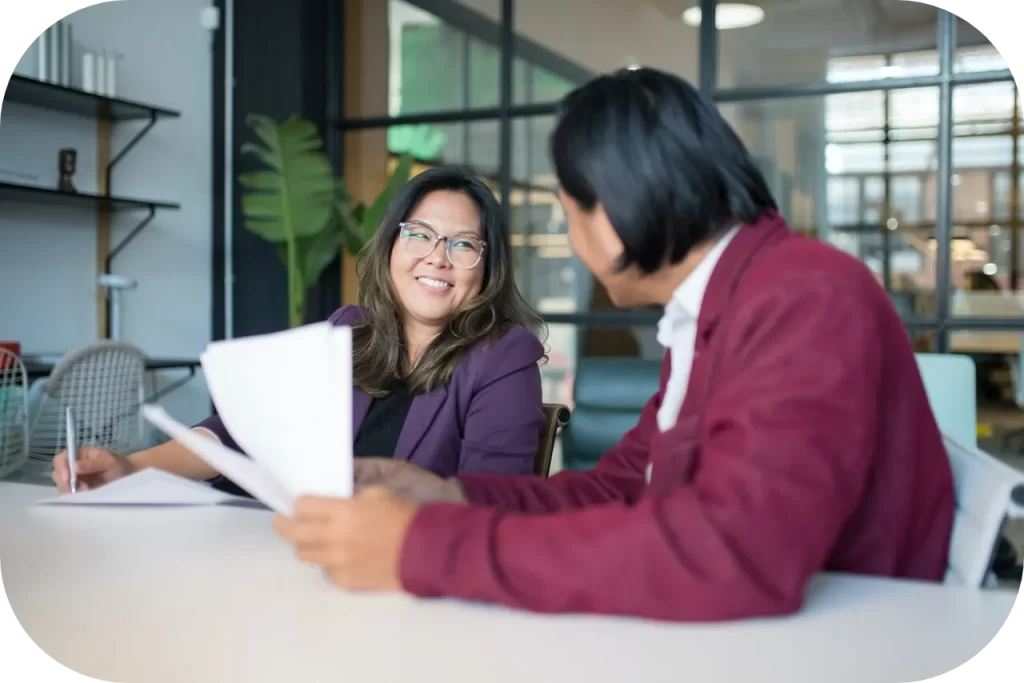 What our customers say
Fernando Safont
February 1, 2023.
Fast, professional and affordable service. I'll strongly recommend LanguageReach to anyone! Great job, many thanks
Debbie Smith
February 1, 2023.
Professional, fast service, delivered as promised, and earlier. Thank you, will use you again for any future translations.
Simon Devereux
January 27, 2023.
Fantastic query handling, 24 hour turnaround. Just a great service.
agustin conesa
January 26, 2023.
Great translation services, affordable and quick. Thanks
Sophia H
January 24, 2023.
Quick, value for money, good customer service
Miguel Lima
January 19, 2023.
Best service and fast
Jos Vernon
January 18, 2023.
Excellent. Fast. Reasonably priced. What's not to like?
Mohamed Amersi
January 18, 2023.
Thank you.Very good and efficient service
Shana Stephany
January 17, 2023.
Very fast and professional service. I received very prompt replies to my queries and I am very happy with their service. I recommend.
Certified document translations for business & private customers
Our certified document services are available in English & 200 other languages. Our London Certified Translation Team will ensure the highest possible quality. Your translated document will be officially certified and legally recognised in the United Kingdom and abroad.
Certified Translations
All of our translations are officially certified and legally recognised by all major institutions & authorities.
10+ Years On The Market
We provide certified translation services to thousands of happy customers since 2011.
High Quality & Low Prices
Our strict quality control procedures allow us to deliver high-quality certified translations at low prices.
GOV UK Accepted
All of our translations are officially certified and legally recognised by GOV UK and other official institutions.
London Certified Translation Company
Welcome to TS24, a leading London based provider of sworn & certified translation services. All of the documents we translate and certify for our clients meet the specific requirements in the country where the application takes place, enabling them to be used in formal procedures. A certified translation is the translation of a document that is accompanied by an official certification. Our certification is presented in the form of a cover letter with a signature, stamp and a written statement from the translator or a representative of TS24 translation agency.
What does a 'Certified Translation' Mean?
The type of certification you may need for your translation may vary depending on where your application takes place. To help you in understanding which certification you may need for your documents, we explain these differences in detail below.
Standard Certification
Notarisation
Sworn Translation
Apostille
Standard Certification
A standard certificate of translation is simply a statement from the provider stating that the document was produced by an accredited language provider (LSP) or a sworn translator (outside of the UK). This can be done by our in-house team and usually takes less than 24 hours to complete.
In most cases, a standard translation and certification are sufficient for full legal use in the United Kingdom. This type of document authentication is officially signed & stamped by the supplier or company and accompanied by a cover letter, stating full details and can be treated as proof of accuracy. You can find the UK's government guidelines on certifying your document here.
Notarised Translations
In some cases, further certification may be required. This refers to a 'Notarised Certificate'. It is very similar to the standard certification, however, the difference is that it is signed and stamped in front of a solicitor or public notary, who also provides a signature and an official seal to prove the translation's legality.
Sworn translation
Sworn translations are certified translations that can only be provided by officially registered translators in the country where you are submitting your application. This confirms that they have carried out the document conversion and truthfully communicated the content.
Apostille
The function of the apostille is typically for presenting documents overseas. This procedure is the same as for a notarization, however, an apostille requires that the document is sent to the Foreign and Commonwealth Office for validation. This certification is valid for all countries abiding by the Hague Convention.
How to Certify Translated Documents in the United Kingdom?
Certifying your translated documents in the United Kingdom is easy, quick and straightforward. We translate, proofread, edit and certify thousands of documents in all languages monthly, ensuring that our clients can complete applications successfully or communicate anywhere in the world. If you need to professionally translate your documents or certificates, call our in-house team on +44 208 677 3775 or email info@translationservices24.com and get a free quote in just 30 minutes.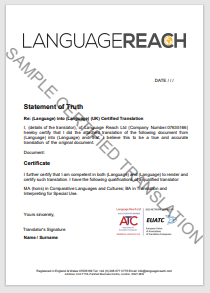 Client Reviews & Testimonials

Superb through and through. Fast and friendly service, good price and secure payment for the certified translation. Highly recommended!
Matt, 2022

I have worked with a number of official translation agencies in the UK over the last few years and TS24 is by far the best I have encountered.
Alex, 2021

Great from start to finish. I found them on Google and after reading the positive reviews I decided to give them a go, and wasn't disappointed.
Mike, 2022

Highly recommended. A great company to do business with. A professional team who goes beyond to assist your needs and support.
Elissa, 2022
Quality Promise
| | |
| --- | --- |
| Delivery | Free Delivery - Post & Email |
| Turnaround | Same Day, 24 hours |
| Document Certification | Certified, Notarized, Apostilled, Sworn |
| Certified Translation Pricing | From £30 + VAT |
| Document Types | Any document / certificate |
| Languages | 200+ languages |
| Service Area | UK & International |