Officially certified medical report translation
Translation Services 24 are one of the leading translation agencies in London and an officially accredited UK translations provider. We provide medical report translations that are legally recognised by the UK authorities. Our medical report translation services are provided in over 300 languages within 24 hours.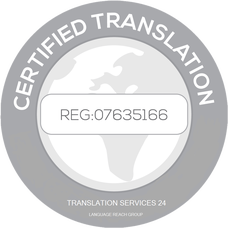 Our Medial Report Translations are:
Fully certified
Fully authenticated
Fully approved
To make an enquiry or to follow through with your certificate translation email 
info@translationservices24.com
where a member of our projects team will respond within minutes.
Fast Turnaround
We are able to translate a standard medical report within 24 hours of receiving the document. You may scan and email over your document to save time. Once translated we send out a first class copy in the post which will be fully certified, stamped and signed by our management team. Our Certified Translation Services understand the importance of Translating medical documents as quickly as possible.
What's the next step…
You may email the certificate over to info@translationservices24.com or alternatively give a member of our team a call on 020 8677 3775, we look forward to hearing from you.