How Can Translation Services Improve Your Company's Image?
The image and reputation of a company has a massive impact on the public perception of a brand and consequently sales and revenue. In a competitive and globalized business climate, a positive branding and consumers perception of your business is the difference between success and failure.
Businesses which target audiences overseas or international clients on their home market need to be extra cautious when it comes to their marketing and advertising efforts. Whilst being a foreign brand can often work in a company's favour in some markets, you still have to woo your audience, and do so very carefully. One of the areas where com-panies can 'win big' within a new, foreign market is talking to their potential customer in their native language.
There are several key factors in which a language translation agency can help the image of your company. Brands need to develop an image that resonates with consumers – and communication very often goes beyond language.
In this article, we will run through the key aspects of building a brand image and discuss how working with a translation and transcreation agency can help you shape your image in a manner which appeals to the international customers.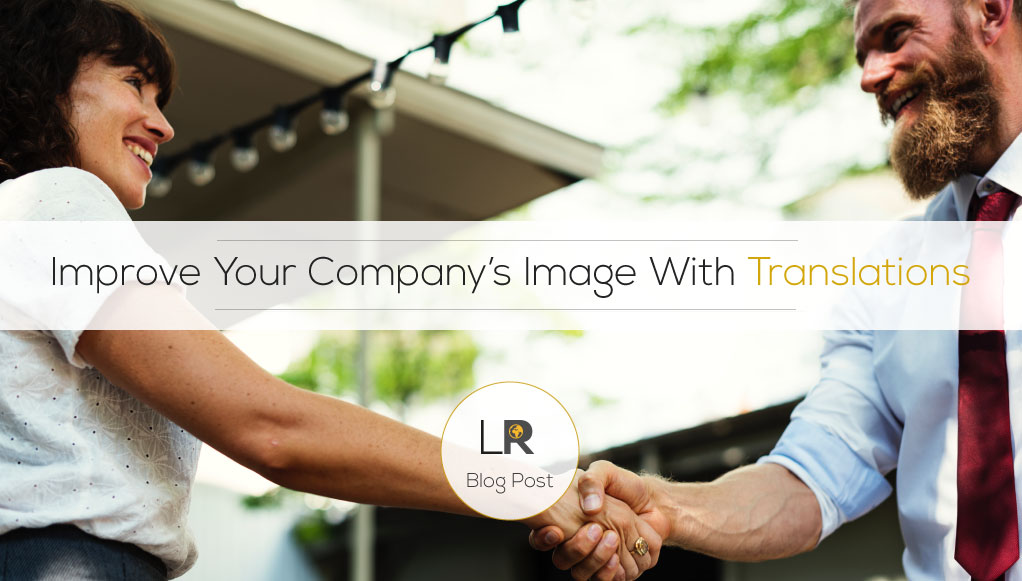 What is a language translation service?
Language translation services cover a wide range of areas that are required for commercial purposes; language, culture, technical, legal, and marketing.
Precise wording is highly important in creating a brand image. In the past, plenty of Fortune 500 companies failed to translate a slogan, which turned out to damage their brand.
For many of your customers your marketing material will be the first point of contact with your brand. Translating your website, brochures and posters into the language of your target market immediately creates a good first impression.
A language translation agency will not only translate your marketing material so that it reads well but will also be able to include cultural references which resonate with locals on an emotional level.
Marketing campaigns without emotion are quite simply, impractical. Translation agencies use techniques such as localisation and transcreation to really make your message, and your brand, stand out within a busy, inetrnational market.
You also have to be aware of socio-cultural values, including political, religious and even historical views. These pitfalls can be damaging to a company's reputation if ap-proached incorrectly.
Qualities of Professional Linguists
Professional linguists are highly educated and have an excellent understanding of language structure. It is important for language to be communicated accurately together with understanding certain phrases and synonyms.
Extensive knowledge of spoken and written language is imperative to establishing good communication. How your company delivers its marketing messages undoubtedly leads to more success in your business transactions.
As you can probably appreciate, language has many intricate details which require an indepth knowledge. To navigate potential problems, language translation agencies usually assign work to native speakers of your target language.
Not only that, but translation agencies also perform proofreading and editing to a very high standard. Here, at TS24 we have several layers of quality assurance that require the translated copy to undergo several drafts by at least two linguists.
Companies can also utilise the knowledge of native linguists to learn more about the target audience and incorporate this into a strategy to develop a positive brand image.
A brand message may need refining in order to fit the mindset of your target audience. Even subtle differences of tone between written and spoken communication can make a big difference.
For example, in the USA, the tone is exaggerated with a strong call to action – 'Buy Now!'
In contrast, marketing content in France is typically written in a conversational style and the call-to-action is much softer. In Germany, it is actually against the law for a company to claim they are 'the best'.
Enhancing your company's image
Building a brand image requires you to pursue several channels; ad campaigns, press releases, targeting influencers and engaging customers on social media.
A professional translator can help with all strategy-building channels. Speaking with locals will require a local sales team. Therefore, the best way to train your staff about your products, services and brand image is to translate documents into their language, which will allow them to comfortable learn about what you're about.
Translation companies can help you prepare scripts and training materials. Additionally, we are also able to address any legal material you may need translating such as staff contracts, privacy policy and T&C's.
Companies that have promotional videos should also consider taking advantage of transcription services.
Voices in audio files may feature an accent from a region your target audience is not friendly with – speaking neutral Spanish in Catalonia for example may not go down to well.
Most countries have online influencers in modern markets and foreign businesses should be looking to leverage your brand image through recognised influencers that are trusted by your target audience.
Not all influencers will be able to speak a good level of English, and when you're developing a brand image, it is vitally important the influencer understands what your compa-ny is all about.
A local linguist can also be on hand to converse with influencers and pass on messages that will be understood. For example, certain topics are difficult for untrained people to approach. Legal and technical documents are a good example.
Industries that use highly specific language can easily be misunderstood to a foreign audience. This is especially the case if you are introducing a new product, system or part to a country.
Companies can feel confident about explaining the nature of your business, products and brands to a professional linguist because they have a deeper understanding of your language – and can therefore communicate to people in their own language.
Tackling an overseas market can be extremely complicated if you try to go it alone. At the very least, you will need to translate your website and marketing materials. If you're go-ing to take things that far, it will be more beneficial to your company image to get it right.