Translate a Manual
Translation Services 24 is a leading translation agency based in London, United Kingdom, specialising in providing certified translations of manuals and other technical documents. Manuals provide step-by-step instructions on how the users should operate and maintain the product. The users who use this manual can range from untrained users to highly educated people. However, irrespective of the person reading the article, the instructions must be clear and accurate, using the correct terminologies.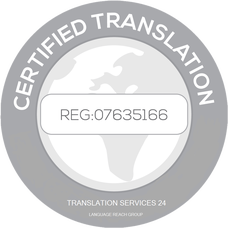 The Need for Manual Translations:
Manual Translations are the basic need of any company that manufactures a product. Amidst the global economy that is prevailing in today's world, almost every product is sold in the international market. Even if that is not the case, it at least reaches users who speak a different language. Therefore, in making the users understand and appreciate the product better, there is a need for Manual translation.
Our Professional Translation Services:
We hire the most talented, experienced and well-trained translators to translate your manual and provide accurate translation services for clients in all industries. For the translation to be of the highest quality, the most important thing to be taken care of is using the correct terminology in the right places. Our expert translators look after this aspect and ensure that the more minor nuances of the manual are not lost during the translation. The industry's language and terminologies keep involving from time to time. Out translators are so well versed in the language and the wording that they will deliver an error-free manual after translation.
As a fast-growing and professional translation agency, we deal with many manuals, and the company's leading success lies in the users' satisfaction. Therefore, we provide the best service possible at the most affordable rates. We will deliver you the translated version based on the requirements given to us.
A few of the topics that we deal with are:
Construction Manuals
Electronic Manuals
Engineering Specifications
Health Manuals
Operating Manuals
Software Manuals
Safety Manuals
Technical Manuals
Contact us
To learn more about our services or to arrange a professional translation of your technical manual in London or the UK, call +44 208 677 3775 or email info@translationservices24.com. You can also get a Free online quote within 30 minutes!