Despite being the second largest continent in the world, Africa isn't the first place that comes to mind when companies intend to expand their businesses. However, the region is worth exploring since it's a hotbed for opportunities, especially for the tech sector.
The World Bank reported the economic growth in Sub-Saharan Africa to have risen to 3.1% in 2018. Plus, they estimated the growth to be up to 3.7% in 2020. Moreover, the wave of IT and digital transformation in African countries invite companies of different scales from various sectors. However, when expanding your business to Africa, you need to know a few things beforehand. So let's look at these topics in detail.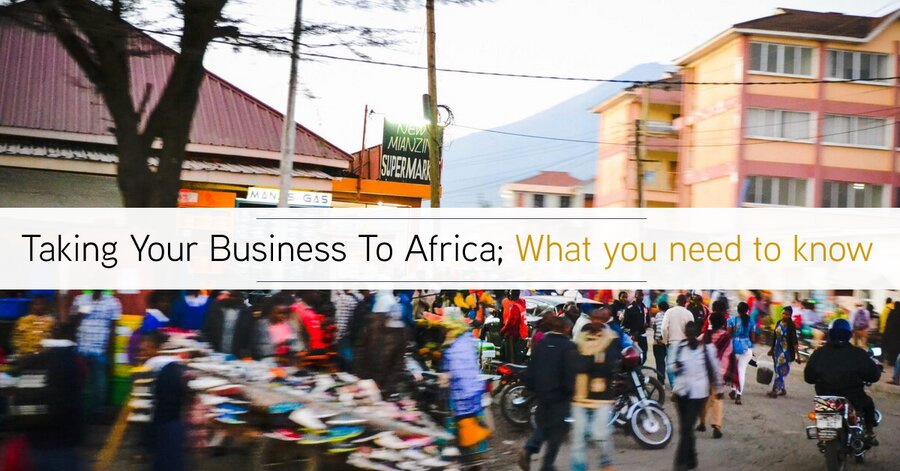 Learn About Employment Regulations
Before you expand your services into any new country, you must understand the local employment regulations to ensure your business is compliant with them.
First and foremost, you need to know the difference between regulations in Africa and other parts of the world, such as the West. The employee regulations, including minimum wages and overnight shifts, aren't as stringent as in Europe or the US. Owing to this, employees' rights are not as safeguarded as in other parts of the world.
Additionally, the social structure in most African countries is inclined towards poverty. Therefore, providing benefits to employees is less expensive as compared to the West. As a result, you can hire a larger workforce for a lower cost.
Most importantly, many African countries are making efforts to increase local employment rates. Due to this, it's hard to get work permits. For instance, South Africa encourages and favors companies that hire the local population. In some cases, you can only hire foreigners if you can prove a lack of local employees fit for the job. Therefore, it's easier to get permits if you hire African nationals.
Find Lucrative Markets
Before you establish an office or a branch in an African country, you must determine its growth potential. Some African nations are more likely to have an economic spur than others. Here are a few options to consider:
Kenya: It's the most diversified economy in the eastern region. In the past few years, there has been a rise in infrastructure development, due to which the country has seen an influx of initiatives in the telecom industry.
Morocco: Most people only know of Morocco for its delicious food and riads, but Morocco is much more than that. The country aims to get around half of its energy from renewable sources by 2020. Plus, it's a passage to Europe, making it easier for trade relations to flow.
Ghana: It's another African country that has benefited economically due to the export of digital goods and a port. Since there's a rise in technology and software in the country, Ghana is a potential expansion project for related industries.
Target Specific Industries
Being a developing region, Africa lacks many things that are prevalent in other parts of the world. Filling these gaps can be your next business initiative. Here are a few prospective industries to consider.
The tech industry in Africa is becoming bigger and more innovative as young talent is arising. So it's a great opportunity for tech companies to expand into Africa since there's a vast population of young people eager to discover what technology has to offer.
Ecommerce is another industry that's bound to be a success in Africa since more and more people are now using the Internet. It might be a norm in the West, but other world regions are still catching up.
As the population moves towards urbanisation, there's an opportunity for the transport industry to grow in Africa. Besides government initiatives, there are many private opportunities for investors to leverage.
Ensure Product Readiness
When introducing your product or service to a new target audience, you need to be sure it's ready for them. Firstly, you must consider the industry-specific federal and local regulations to ensure compliance.
If you need any certifications or permits, apply for them before you initiate operations. Fortunately, officially certified translation services can help you fill out forms and understand the terms and conditions.
Secondly, start a trademark review and patent to ensure your idea is not stolen in the new country. Most importantly, send your products through a quality assurance review to ensure it's according to the local standards.
Hire a Professional Translation Services Expert
Africa is a vast continent, with each country having a different set of languages. It's not like the UK, for example, where the majority of the population understands English.
That's why you'll need someone to translate African languages for you in a professional manner for your company. But, according to the Ethnologue, learning a single African language will do you no good since Kenyans alone speak 68 different languages.
Meanwhile, South Africa has eleven national languages. So, it's best to hire African translation services like Africa Ready to assist you during business operations. Such services help translate African languages and are essential for understanding legal documents and filling them, communicating with potential clients and local companies, and during the recruitment process.
Professional translation services also help translate your product and company's name into the local language since you don't want to unintentionally come off as offensive or unpleasant.
Get In Touch with an outsourcing firm
If you're planning on expanding into Africa on your own, the process will be pretty costly for you. On the other hand, if you partner with an outsourcing provider, the expansion process will become less expensive and more straightforward. An international outsourcing firm lets you garner a presence in another country with ease. Additionally, it lowers your overall costs and helps you understand the new country's business climate and labour laws.
Expanding your business to Africa requires a lot of research and help from appropriate authorities. Make sure you study the market before moving business operations to a new country and have a long-term plan in mind to make your expansion a success.