Things to remember when converting financial documents into another language
Your business's financial documents are vital for stakeholders, especially business partners and investors. Unfortunately, translating these documents can be complex, especially when dealing with stakeholders abroad.
That's why you should seek to get help from a trusted financial translation service to get it done. Otherwise, investors from across borders might doubt your company's credibility.
Similarly, your business partners might feel reluctant to move forward with you if you don't give them the translated version of a financial document.
Therefore, it's best to connect with a professional financial translation service provider and tell them your requirements to take care of your project.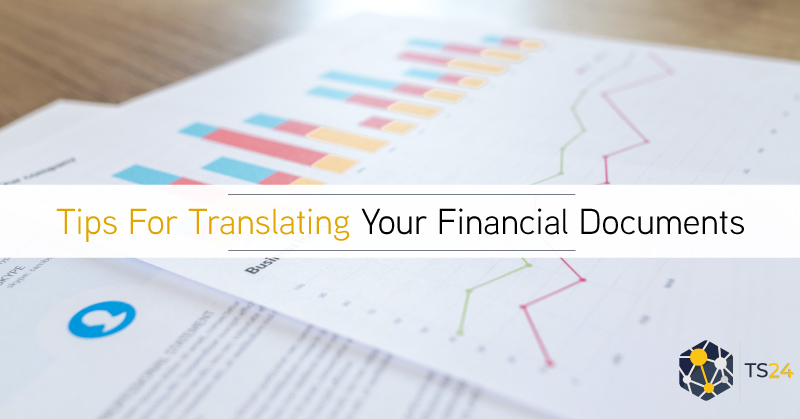 Financial Translations
Financial translation is a critical process that includes all your company's financial documents, such as:
• Financial statements
• Account summaries
• Tax reports
• Payrolls
The translator handling the translation job must have sound knowledge of the field. In addition, they must be familiar with the company and the industry to understand each aspect of a firm's finances.
You already know that the goal of translating financial documents is to satisfy the needs of international stakeholders. That means a translator should know the terminology used in the global banking sector.
While deciding what translation service provider to go for, always check its portfolio and ensure it has good observational skills to comprehend the different company cultures. That's a significant part of translating financial documents.
Professional financial translators must also have brilliant writing skills to prepare a translated copy of the original financial document. Although these documents look more numerical, the text is critical to understand. An individual without knowledge of finance might not understand such phrases.
The translated copy must be presentable in international meetings and seminars where CFOs and financial experts from various companies participate.
So keeping all that in mind, you should decide what type of translation service you want for your company's finances. There are two types:
General Financial Translation Service
This service includes only general financial and accounting knowledge, like annual reports. No specialisation is required for a general financial translation service.
Specialised Financial Translation Service
This service includes particular financial areas like tax and other legal formalities. The translator goes through each financial regulation, understands the region's tax laws, and then begins translating the financial documents.
5 Tips for Financial Translations
You have seen how complicated translating financial documents has become. But it's best to find a solution, especially if you own the company or some shares. Here are the five tips for financial translation services.
Stay Updated with New Terminology
The business world never stops, which keeps the financial sector moving and introducing new methodologies. That's why it's essential to keep up and understand the latest terminology in this domain.
Financial translators who are experts in this field are always prepared. They ensure to grow their knowledge by doing things like reading articles and books on the latest economic trends. That helps them evolve in the financial sector and helps them prepare a comprehensible financial translation for you.
You should also equip yourself with the latest resources and gain better knowledge regarding the financial space. There are many benefits of being in the know.
Hire an Expert Financial Translator
Always choose an expert financial translation service. You will find many services offering discounted packages. But many of them are unreliable. They often need to gain experience in this field and display inaccurate information to allure clients.
You can check the expertise of a financial translation provider by:
• Asking the right questions
• Checking their portfolio
• Asking for testimonials
You should only hire them once you are satisfied with the information provided.
Focus on Regional Details
Focusing on regional details is the most basic yet critical factor, which refers to translating every word of the document concerning the company's regional requirements.
However, in some instances, the exact translation of the word is unsuitable. For example, "Sparkonto" in German means "Deposit Account." But it's better to specify this word as "Saving Account" or "Current Account."
Stay Alert to Different Accounting Standards
Accounting standards change as you move across international borders. That's how financial institutions work, especially in the US and EU regions.
For example, the decimal separation is done by a full stop in the US, while in the EU, they use a comma to write thousand and more. Also, interest rates vary from region to region, which is an essential factor to remember for financial translation services.
Track Previous Projects
Checking the portfolio of a financial translation service is mandatory to verify its performance. So, look at areas like previous projects and analyse the success rates. That will tell you much about the service, especially loopholes and weaknesses.
Challenges Faced by Financial Translators
Financial translation services face various challenges, some of which are listed below:
Strict Deadlines
Clients often give tight deadlines because of their strict schedules. Strict deadlines can make it somewhat challenging for translation agencies as they want to accommodate their client, but the quality of the translation is equally important.
Style Guide
It's a must that the translator assigned to a financial translation is versed in the sector and is also a native speaker of the client's required language. That will reduce the room for error and will mean that an expert will follow the style guide of the company they are completing the translation for.
Local Standards
The translation agency must keep the financial regulations of the client's region in mind because that's where the documents will eventually be used. That will protect the investor's rights and keep a frictionless relationship between the company and its stakeholders.
Accuracy
Financial data must be accurate. Otherwise, it can create issues. The translation agency completing the work is responsible for accuracy.
Data Integrity
The financial translation service you choose should keep data integrity intact. They must also secure data from any potential cyber-attacks.
Key Takeaways
Translating financial documents is a complex task. With the right financial provider, you can be at ease knowing you are in the hands of a reputable provider.