10 Fastest Growing Economies In 2018: Where Should You Expand Your Business?  
As one of the leading translation and transcreation agencies in London, we see a number of companies preparing to venture into foreign markets. Needless to say, a high-quality translation is a prerequisite for succeeding overseas.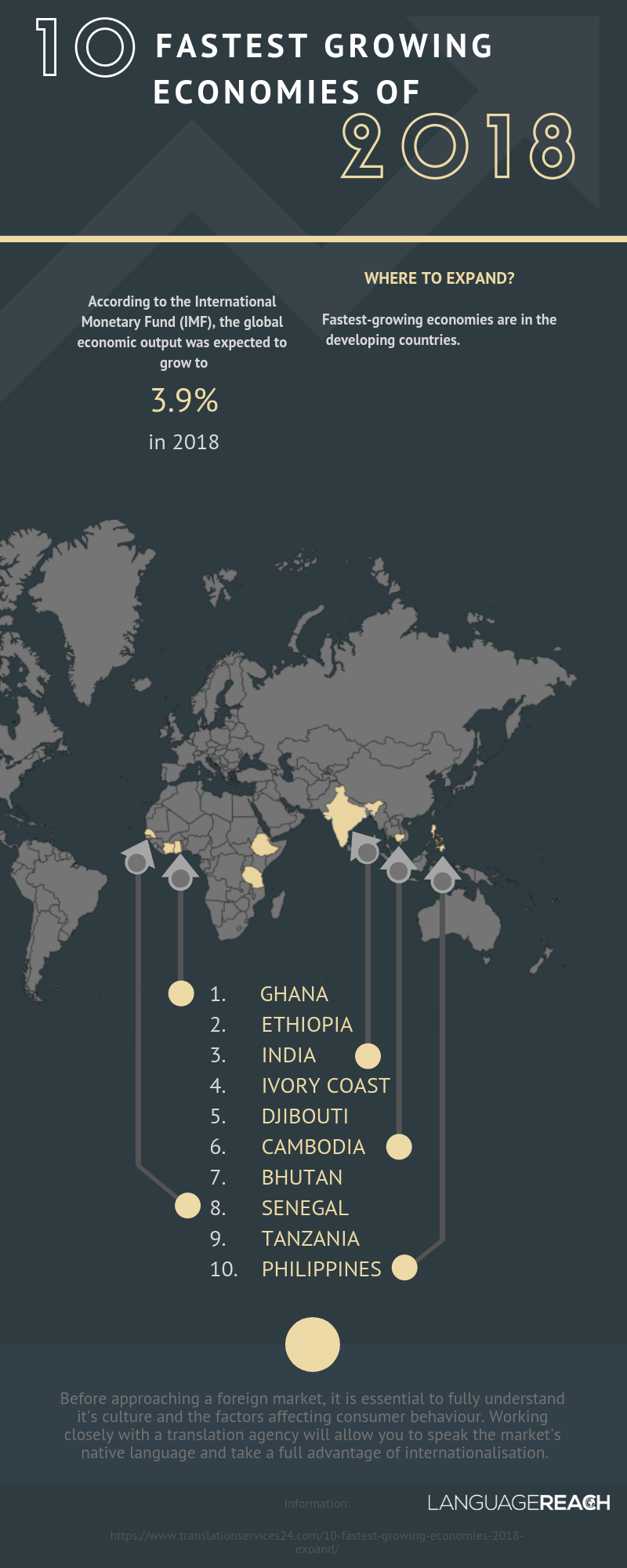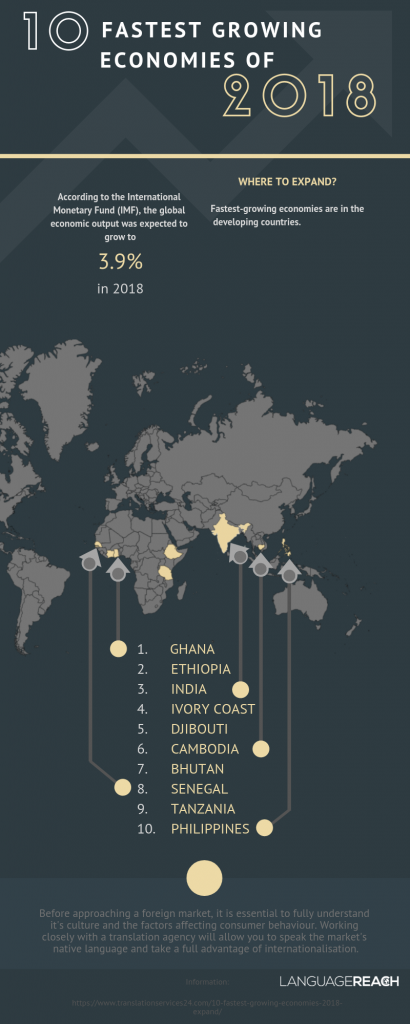 TL;DR
 Fastest Growing Economies In 2018
Ghana
Ethiopia
India
Ivory Coast
Djibouti
Cambodia
Bhutan
Senegal
Tanzania
Philippines
Professional translation and transcreation are essential when approaching new, foreign markets.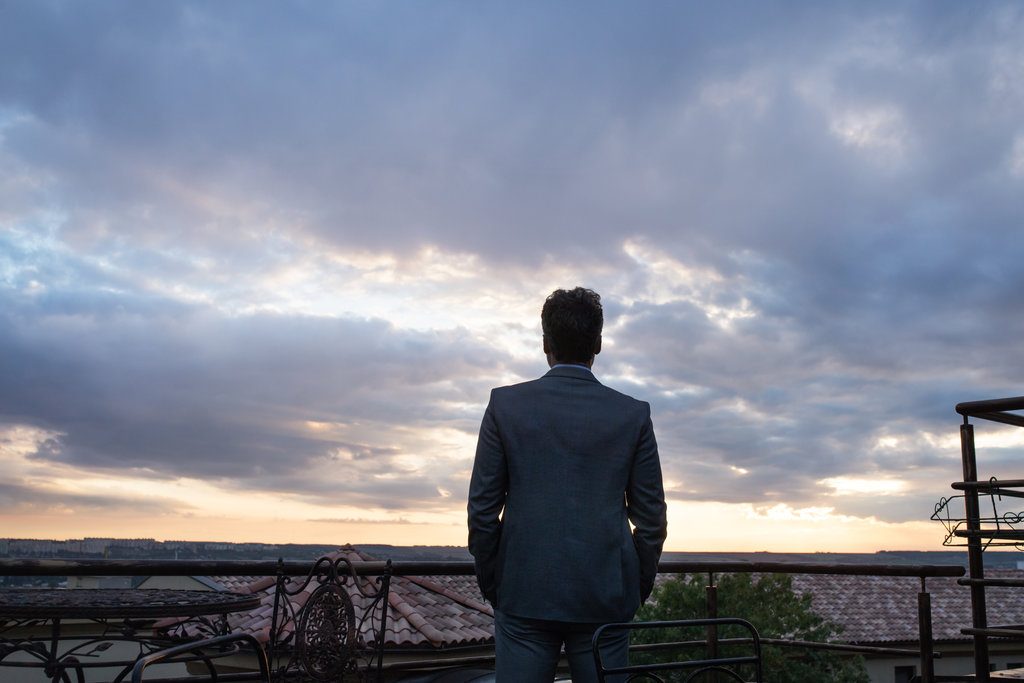 Expanding operations into foreign markets is an exciting proposition for many businesses today. The prominence of the internet and acceptance of multi-cultural communities enables businesses to thrive in new environments.
According to the International Monetary Fund (IMF), the global economic output is expected to grow to 3.9% in 2018. And the fastest-growing economies are in the  developing countries.
Emerging economies give businesses the advantage of capitalising on low set up costs and tapping into markets that have an audience with money to spend.
Furthermore, the optimistic forecasts of economic growth around the world is giving companies more confidence to venture into foreign markets.
However, it is also important for businesses to choose the right market when looking to extend your reach. It is important that you understand the culture and determine whether a foreign audience need your products or services.
As a translation agency, we have contacts with native linguists in numerous countries who are experienced in business and marketing translations. A prior exploration through translation channels can save you a lot of time and expense.
For this article, we decided to explore the 10 nations which are currently showing positive economic growth. These are the countries both the World Bank and IMF predict will have the fastest-growing economies in 2018.
Ghana
The Sub-Saharan African economies are flourishing. Six African nations feature in the top ten fastest growing economies, and at the time of writing this article Ghana is leading the pack.
Ghana is well-endowed with natural resources, and thanks to the discovery of crude oil in 2007 has lifted itself from the doldrums of poverty. As oil prices are rising in other countries, shipments from Ghana have rapidly expanded.
Cocoa production is also a driver behind the economy, and the country logged 850 thousand tonnes last year.
Another advantage for foreign investors is that Ghana has a market-based economy with low-level entry barriers. The government has been smart by limiting policy on trade and investment which is encouraging for international companies.
Ethiopia
Ethiopia is the closest challenger to Ghana as the world's fastest growing economy in Africa. Every year it is touch and go which nation will come out on top.
The World Bank reveals the Gross Domestic Product (GDP) growth rate in 2018 is 8.2% and the IMF predict the country will sustain this rate of growth for some time.
As a matter of fact, Ethiopia is expected to be a middle-income nation by 2025. The economy has been concentrated around services and agriculture, but in efforts to expand the government is encouraging manufacturing, textiles and next-generation energy.
Whilst the economy is booming, and the government has ambitious plans for growth, salaries per capita remain one of the lowest in the world.
India
India was the fastest-growing economy in Asia in 2017 and is expected to reach 7.3% GDP in 2018. The acceleration of growth in the economy is largely due to structural reforms and the implementation of tax on goods and services.
Internals barriers to trade and increased efficiency in tax compliance has helped to ease the corporate debt overhang in the banking sector. In turn, this has improved credit quality and added recapitalisation – making it possible for Indian businesses to collaborate with foreign investors.
According to experts, the sectors with the most potential for growth in India are manufacturing, IT, real estate, retail, and tourism services.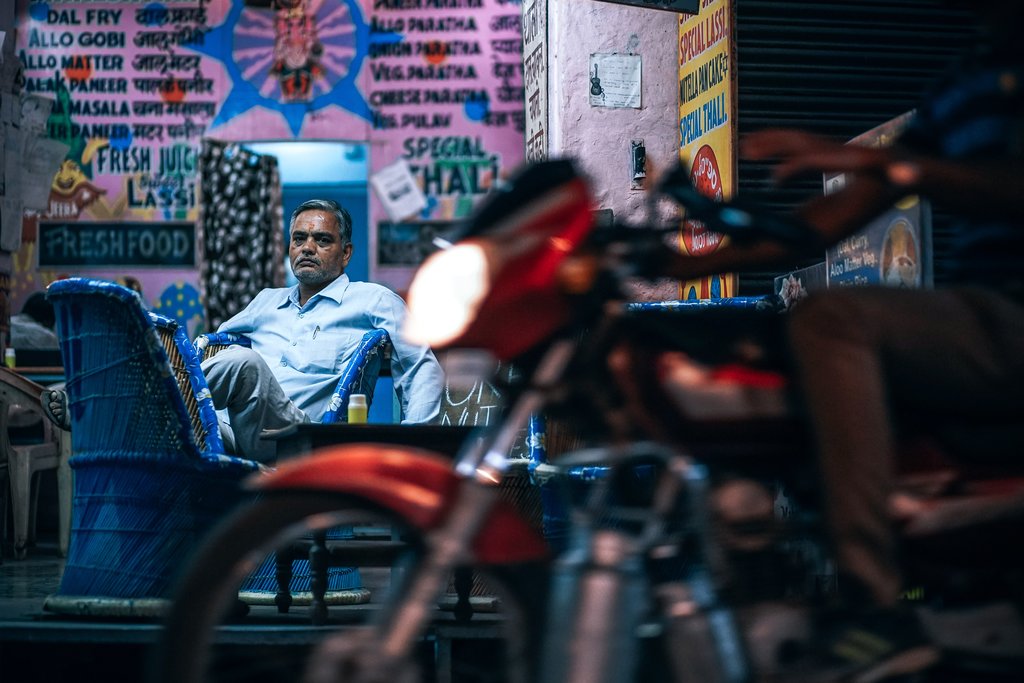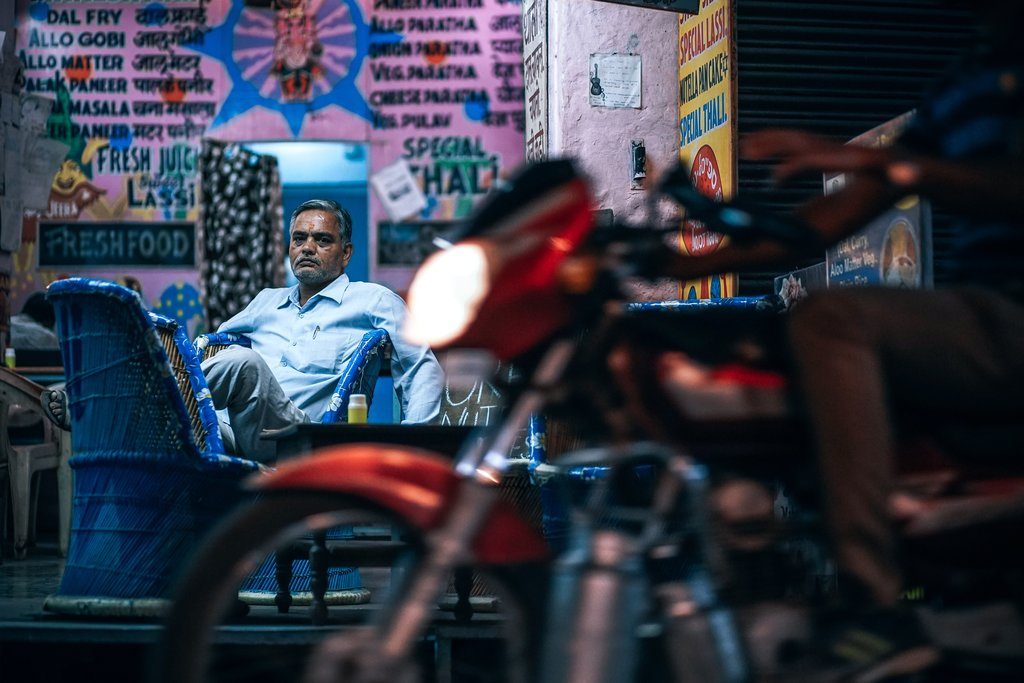 Ivory Coast
The Ivory Coast is dominating growth in West Africa, and the IMF predict expansion of around 7.2% GDP in 2018. Furthermore, the economic outlook for the country is positive over the next couple of years.
Economic performance is largely due to an upward trend in agricultural-related industries and food exports. Ivory Coast is the world's dominant exporter of cocoa beans, coffee and palm-oil.
In addition, the banking sector has improved tax collection policies and curbed government spending which has helped to lower the budget deficit. As a result, the economy is poised for further growth and an opportunity to expand into other industry sectors.
Djibouti
The small country of Djibouti has always relied on its strategic location in the Red Sea's southern entrance. Until recently, the country's economy is centred around service activities in the capital city, and thanks to its idyllic location, tourism is a major boon.
Since expanding its port, the country's economy buoyed by 6.5% in 2016. An increase in construction and transportation was a pinnacle driving force behind the economic growth which is forecast to reach 7% in 2018.
The drawback for Djibouti is that scant rainfall makes it difficult for crop production so most of the food has to be imported. Companies in the food industry therefore have a prime opportunity to develop operations in the Red Sea area and make Djibouti the catalyst for expansion.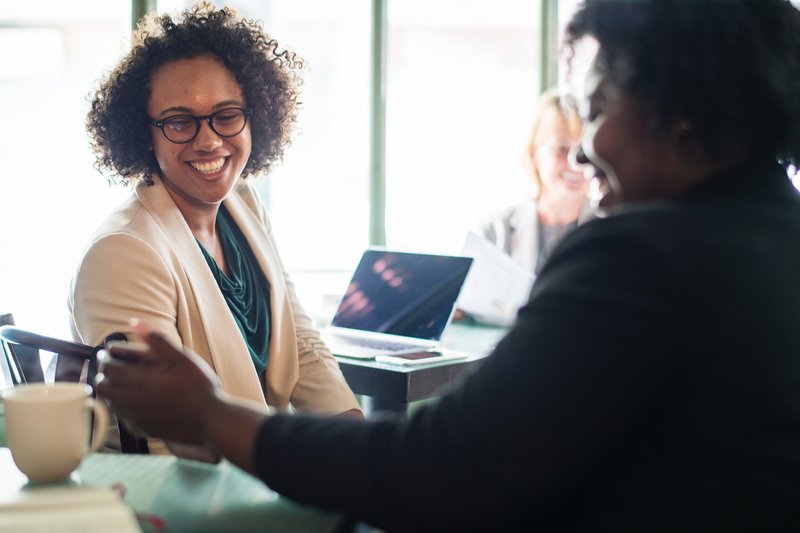 Cambodia
The economy in Cambodia has been growing at an impressive rate in recent years. Spurred by robust development in tourism, construction, clothing and fast-paced growth in the banking sector, the economy is predicted to grow by 6.9% this year.
Garment exports are being supported by agreements with the EU and America together with increased shipments to Japan and Canada. The Cambodian government is also diversifying its manufacturing sector into electronics and auto parts.
In addition, market reports indicate business opportunities in Cambodia for international companies are in food processing, hotel resorts, education, architecture, construction and engineering.
Bhutan
Bhutan has a reputation as being the happiest nation on the planet because it measures socio-economic development on the Gross National Happiness (GNH) frameworks rather than the GDP.
The government does not ignore the GDP entirely however, and the country's potential for hydropower generation has pegged Bhutan to be the fastest-growing economy in the next few years.
The World Bank's Global Economic Prospects predicts Bhutan's economic growth average 11.1% which will drive development and prosperity in the country.
Together with hydropower, agriculture and forestry will be the key drivers of industry, and the government has plans to diversify exports in rice, potatoes, corn, apples, hazelnuts, coffee and organic vegetables.
Senegal
Senegal's economy has been growing at a healthy rate for several years now. The World Bank predicts a 6.9% growth for 2018 which is a consistent rate of expansion since 2015.
The completion of a new international airport in 2017 is expected to attract 3 million visitors a year and boost the country's tourism sector. However, the big money is in expanding the country's infrastructure and trade routes.
Phosphate mining, heavy construction, commercial fishing, IT and agriculture are other key sectors international firms can capitalise on. The government also wants to develop the countries logistics and warehousing in order to expand their distribution network across Africa and Asia.
Tanzania
The East African nation of Tanzania has enjoyed a high economic growth rate in the last decade – and average of 6.5% GDP. And with a population of 55 million climbing out of poverty, there is a positive outlook for the future.
A steady rate of growth has been encouraging, and the government has ambitious plans to invest in the private sector. The aspirations are to source finance and innovation in order to create more jobs.
Gold resources and a wealth of tourism have been the driver behind Tanzania's economic buoyancy, and with the new President John Magufuli cutting unnecessary government spending, the country has a solid foundation to enjoy for growth.
Ambitious projects including telecommunications, banking, energy, mining and agriculture are already underway in an effort to boost the income per capita – which is currently one of the lowest in the world.
Philippines
Amidst stiff competition is numerous emerging economies in the Asia-Pacific region, the Philippines is expected to remain one of the fastest growing economies in 2018 – second only to India.
The government has set a 7-8% GDP growth target for 2018, and projects to improve the country's infrastructure to help ease transport congestion is expected to improve trade.
A second international airport in the north of the capital Manila is almost finished and extended rail routes to the provinces is encouraging foreign imports.
Furthermore, recent trade agreements, relaxed laws on foreign ownership, monetary and tax incentives together with plans to move publicly funded companies into the private sector is all attracting foreign trade from international companies.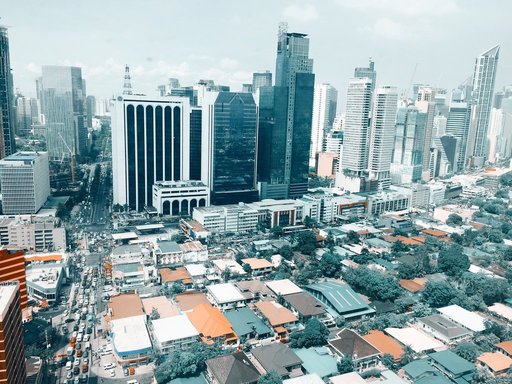 Need help with translation?
Businesses which are looking into opportunities for cross-border trading are advised to ensure you have communication channels in place. Dealing with nations which speak foreign languages and have different cultures can be tough to tackle if you go in on the blind side.
Translation companies have experts in business, engineering, law and marketing. Together with a certified translation, we can also offer guidance on culture, business and consumer mentality and legal restrictions that may limit your overseas operations.
Consulting a translation company before embarking on such a massive undertaking could save you a lot of time, effort and money. Our specialists can also provide valuable advice that can help you succeed overseas.