Approaching foreign markets? Here's what you should know;
With the growth of internet and other general technological advances, businesses today are able to trade with clients and partners based overseas much more freely than just 10 or 15 years ago. Nowadays, the world is a truly unified, global marketplace, where brands, organisations and clients are able to 'meet' digitally and conduct business practically without any borders. Nonetheless, these new opportunities bring along some associated challenges, which any company wishing to be successful on the international level must overcome.
One of the most challenging tasks awaiting companies which intend to approach foreign markets, is creating marketing campaigns that truly reflect the target market's customs, beliefs and which are able to genuinely connect and represent the consumers within the chosen market, keeping in mind the company's values at the same time.
Today, in order to achieve just that, a rapidly growing number of businesses create fully tailored marketing campaigns, which take into the consideration several socio-cultural aspects. This, consequently, allows the company to resonate with the target audience and therefore create a brand image the customers can, and want to, be associated with and feel connected to.
Interestingly, studies show that one of the most significant socio-cultural aspects, which can directly influence how successful a marketing camping is and how positively a company is welcomed within a foreign market, is the correct use of language.
A study by the CSA Research shows, that over 75% of people feel more inclined to finalizing a purchase if the information about a product or service is available to them in their first language. Interestingly, more than 60% of the consumers questioned claim to never or very rarely purchase products if they are not able to read about them directly in their native tongue.
Studies such as these show just how truly important it is for organisations and companies to consider language translation services when creating fully tailored marketing campaigns aimed at a wider, international audience.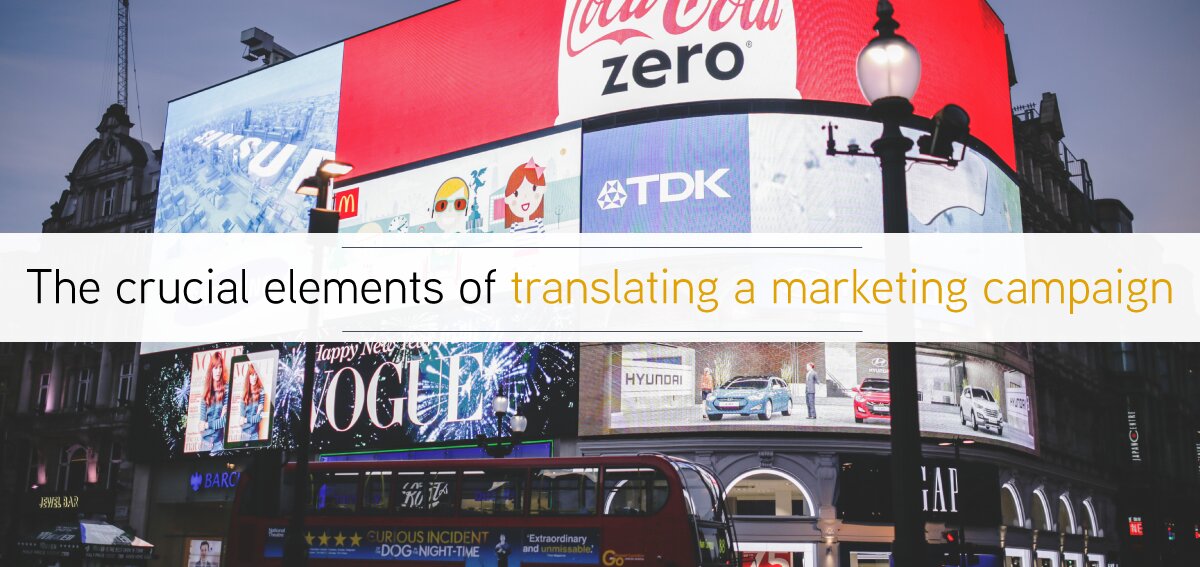 Reflecting the culture
Marketing campaigns created specifically for foreign markets have significantly grown in popularity over the recent years. Before, the 'one-fits-all- approach was the go-to for a vast majority of business owners, perhaps due to its relatively low costs and ease of implementing across all channels.
The 'one-fits-all' approach consisted of creating one marketing campaign, usually aimed at the company's home market, and then expanding it abroad, without making any significant alternations to it, whether it's the language, visuals or other such factors.
Today, however, consumers around the world better understand the individual value they bring to the larger, global marketplace. Although fashions and trends have become more and more unified around the world due to globalisation, each individual market is fully aware just how important its consumers are to the international brands. As a result, marketing campaigns and general branding must reflect a number of factors, specific for the target market, allowing the audience to connect with your brand.
Cultural aspects are perhaps some of the most significant factors a company must consider during the internationalisation process. Religion, history, customs and other similar values specific to the target audience must be taken into account when creating a tailored marketing campaign. For example, religion plays an important part across several countries in the Middle East. Consequently, including sexual images or images of alcohol may severely damage the reputation of your brand. Similarly, colours have an in-depth meaning across Asian cultures, and so before including them within your marketing materials, you should confirm their significance within your target market.
The importance of language
Another key aspect, which your organisation must consider when approaching foreign markets is the use of the audience's native language. As previously mentioned, studies suggest that a vast majority of global consumers are much more likely to engage with a brand and purchase products/services, if they can find the information about it directly in their mother tongue.
As a result, professionally translating your marketing campaign when expanding onto a foreign country can be the difference between a spectacular success and an international failure.
There are several materials within the marketing campaign you should consider translating. From brochures, leaflets and presentations to social media channels and your website.
In fact, translating your company's website can be one of the most significant and beneficial steps of the process. In majority of cases, your website will be the initial point of contact between the company and a potential customer. Making sure that all of the information is available directly in their native language can significantly increase chances of conversion and build a strong, professional brand image and a good relationship with the market, which is absolutely essential within a new, foreign market.
Who should translate your marketing campaigns?
The importance of using the correct language within marketing campaigns is critical, regardless of whether it's aimed at the home or foreign audience. When creating materials for your domestic market, you have the advantage of fully understanding the language used. As a result, you'll be able to pick up any inconsistencies within the content or phrases which do not align with the market's values.
When approaching a foreign market, you lose this key ability. And yet, your brand will naturally be exposed to foreign clients and business partners. Therefore, ensuring that your marketing campaigns are translated by a professional linguist is nothing short of necessary.
The linguist converting your content should not only be a native speaker of the target language, but should also understands the particular market you wish to penetrate, consumer behaviours within it as well as your brand and business sector. The combination of these skills will allow them to translate your marketing campaigns to the highest possible linguistic standard and ensure that the market's values are met without compromising your branding.
Do you need a marketing translation?
If you need to translate your company's marketing campaign or any other promotional material, simply get in touch with us and we'll be more than happy to learn more about your specific requirements. Our agency specialises in translating marketing content & documents – from brochures and press releases to websites. Simply email info@translationservices24.com and one of our account managers will be in touch with you shortly.