'Being able to work from home' has always ranked high in any rankings, which tried to identify and establish factors, that make-up a 'dream job'. In fact, studies show, that the majority of people in the United Kingdom would be willing to take a small pay-cut, if it allowed them to work remotely at least 2 days a week.
Today, however, due to the world pandemic and fears regarding the coronavirus, many people are indeed asked to work from their homes. Although, despite the circumstances, this is a dream come true for some, many people find it somewhat difficult to adjust to the new routine and worry that changing the way they work so suddenly, might in fact affect their productivity.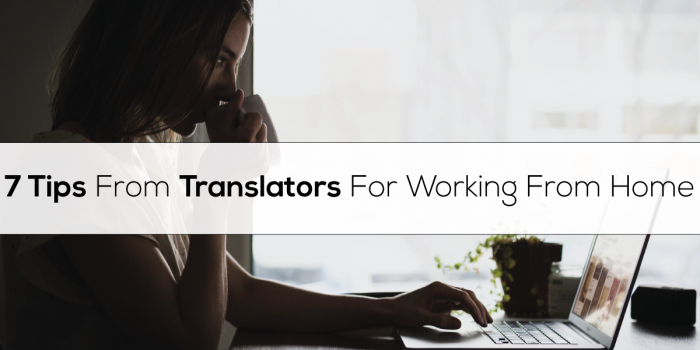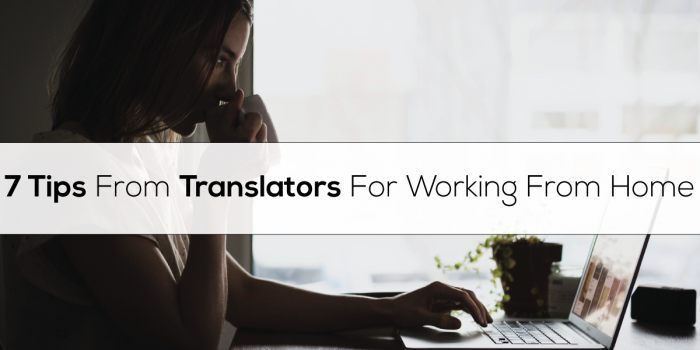 There is however a profession, which 'specializes' in working remotely. Most translation service providers use their homes as the everyday offices in order to deliver services. Working under a lot of pressure, tight deadlines and with demanding projects means, that linguists have to be able to create a friendly working environment at their homes, and so we asked some of them to share their number 1 tip, for people who are just adjusting to working remotely.
TL;DR
Have An Organized Workstation
Social-Media Distancing
Plan Ahead
Take Clear Breaks
Set Working Hours
Listen To Music
Invest In Technology
Have an organized workstation – SASHA, 29, London.
"I've been working as a professional translator for the last 6 years. If I could recommend only one thing to people who have recently found themselves working remotely, is to have a carefully organized workstation. Whether it's a desk somewhere in your living room or in a separate office altogether – making sure that your workstation is clean, organized and only involves items related to your work is crucial for increasing productivity. I can see from my own experience, that translating a document is much easier when my environment is well-organised."
Social-Media Distancing – AGA, 42, Krakow. 
"Social-distancing is certainly one of the key buzz-words in the current situation. As a professional translator however, I have been applying it's extension to my work for several years and found that Social-Media Distancing makes a world of difference when it comes to getting things done. Whenever I work, I make sure that I am signed out of my social media profiles on Facebook or Instagram. Being able to work without interruptions allows me to fully focus on translating, and I know I can always catch up on the latest baby pictures when I take a break!"
Plan Ahead – GEORGE, 55, Oxford
"Working as a professional translator for the last 30 odd years has taught me, that there really isn't just one, magic factor which you could apply and expect a complete change in your productivity. There are however, several aspects, which applied together can make a huge difference. Nonetheless, if I were to recommend just one place to start, it would be to carefully plan ahead and know exactly what you'll be working on. Knowing your tasks will allow you to focus strictly on getting them done, rather than wasting your time."
Take clear breaks – MARISA, 32, Paris
"During the very early years of my professional career as a translator, I worked in a large London-based cooperation, providing ad-hoc translations and other language services. There, the schedule was very clear, including break times. As I later began working as a freelance translator based at home, I realized that my productivity hasn't at all improved, despite longer working hours. I tried changing different aspects of my work, and found that once I set myself a similar schedule with clear breaks, I was then able to improve the quality of my work. Taking breaks to relax and clear your mind a little really makes a difference!"
Set clear working hours – JULIA, 27, Madrid
"To me, nothing made a bigger difference in terms of growing work productivity than clearly setting my working hours. My alarm goes off in the morning just as if I was working at a company. I eat breakfast, shower & get ready as usual. The only difference is that instead of travelling across the city, I travel to the next room where my home office is set up. Although my husband still laughs at me, doing this really allowed me to create an extremely practical routine, which defeats even a slight sight of laziness."
Listen to music – ILARIA, 46, Bologna.
"I'm sure that there are other things you can do in order to work more efficiently from home, but there is one thing that I personally could never work without, and that's music. Listening to music in the background (classical, not hip-hop or techno!) really allows me to focus and concentrate on my work.
Invest in technology – OWEN, 31, London 
"Being able to work remotely has definitely been at the very top of my priorities when choosing a career path, and being a professional translator gives me just that. Having the experience (and luck) of working from home my entire life, I can tell you that, although often overlooked, investing in technology, which will allow you to work smoothly and without interruptions, is an extremely important aspect of working remotely. Whether it's a new laptop, PC, printer or fast Internet – make sure that your technology can keep up with you!"