Translation industry in the shadow of a world pandemic – Are we ready?
The current situation is perhaps not only unprecedented for many people and businesses around the world, but it is also completely unforeseen. It's often extremely difficult, if not impossible, to be fully prepared for the chaos of such scale – and although the governments and businesses around the world now begin to introduce all of the necessary measures in order to minimize the impact of the virus on the economy and to keep people safe, the scale of the problem truly shows that the world, in general, was quite simply, not ready. But what about the translations sector?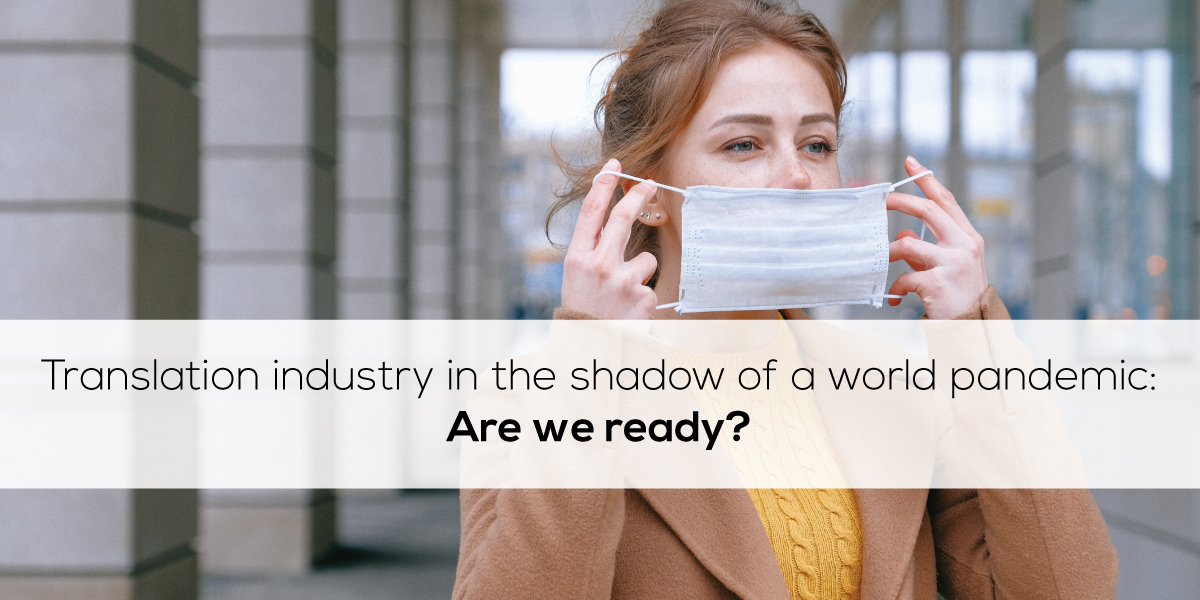 The Domino effect
It is very likely that the translation sector might be directly affected by the current health & economy crisis. Most of the translation agencies, as well as professional linguists, specialize in working with predominantly corporate clients. As a result, the translation sector may be a part of a larger 'domino effect', where businesses and organizations postpone approaching foreign consumers and halt their international campaigns until the situation is somewhat more controlled and markets return back to normal. Effectively, most industries already are, or within the coming weeks will be, affected.
There are however sectors, which despite the crisis may be in more demand for professional translations than before. As this is now, unfortunately, a worldwide crisis, the translations of pharmaceutical and medical materials are now more critical than ever before. This might also be the case for the legal sector, especially in the long term.
In addition, there is a noticeable trend within some corporate clients who decide to go ahead with their campaigns and internationalization plans now, despite the current economic situation. These businesses believe, and rightly so, that translating their content now will allow them to be a step ahead of their competitors when the situation is somewhat more stable. With governments around the world injecting funds into markets in order to aid businesses, this approach might indeed turn out to be successful in the long term.                                                                                   
Translators are ready, naturally.
Although the translation industry might be somewhat affected as a whole by the outside factors, professional linguists are however ready to continue working as usual. Fortunately, the nature of working as a freelance translator allows linguists to work from home. In fact, the majority of translators usually work from their home offices and so while a number of professions need to adjust to working efficiently remotely, continuing, as usual, isn't a problem for professional translators.
Interpreters – a different story?
Although professional translators are able to continue working and providing services without any serious interruptions, expert oral interpreters might, unfortunately, be affected more severely.
With a number of countries around the world introducing strict policies and restrictions, including limited close & direct contact, the job of professional interpreters became more problematic.
Many businesses and organizations, which require interpreting services on a daily basis, but have been limited by the recent restrictions, look for intermediate solutions, which allow them to work relatively uninterrupted. As a result, a rapidly growing number of oral interpreting is provided either over the phone or using videoconference software, such as 'Skype' or 'Google Hangouts Meeting'.
Can bespoke software help agencies?
One of the key concerns for professional translation agencies which specialize in working with corporate and business clients is ensuring that the key processes remain uninterrupted, without compromising the quality of work and security, which are the key elements within our industry.
Consequently, agencies, such as ours, which have their processes based on bespoke and secure software and tools developed specifically for own, as well as clients' requirements, are able to continue working seamlessly regardless of the market restrictions. Fortunately, the 'Language Reach' software allows us to continue providing secure services to our clients and to liaise with linguists irrespective of future market developments.